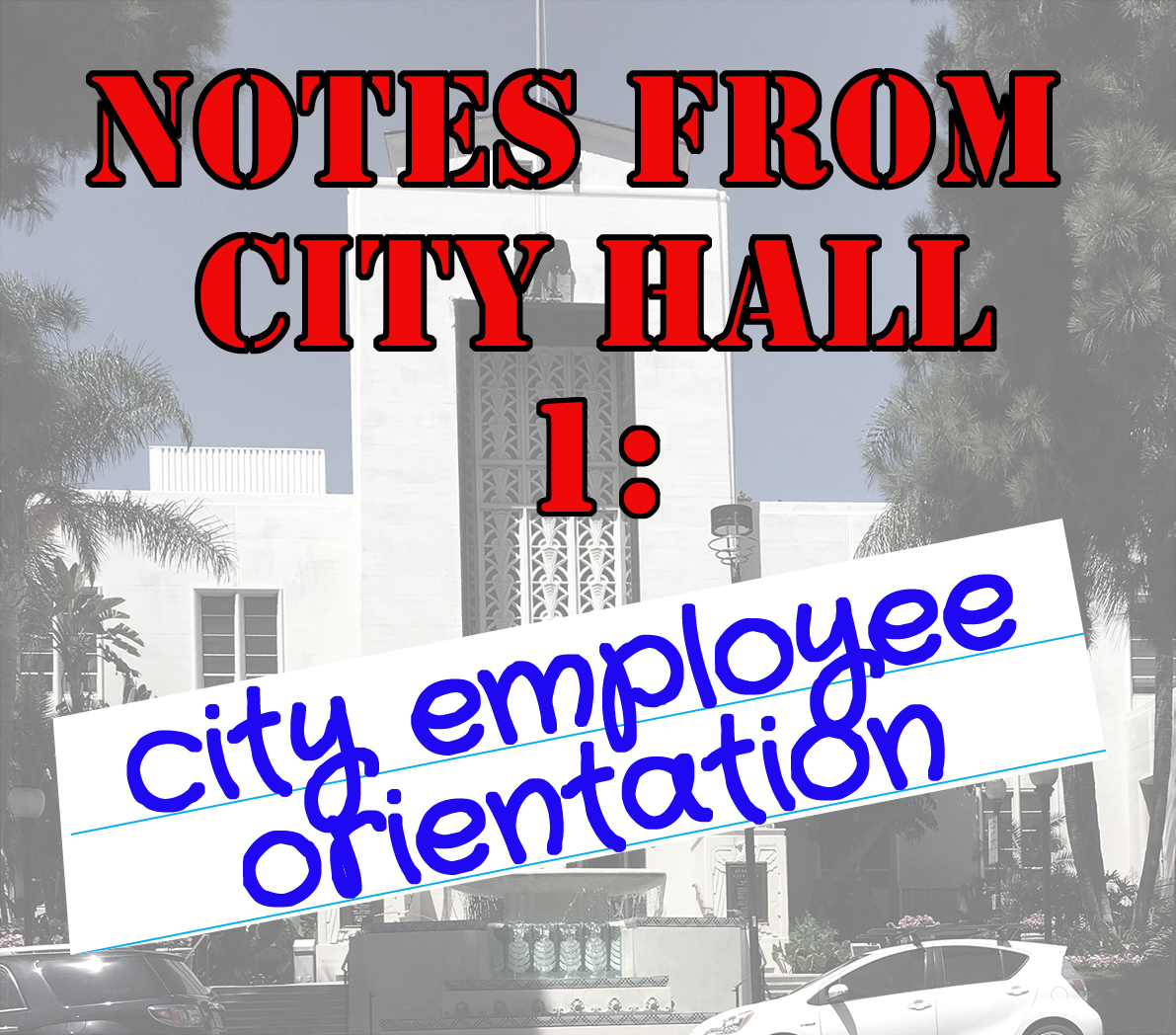 8:35 We're in the City Council Chambers. I don't think I've ever been in a City Hall before, so that's exciting.
8:40 Going around the room introducing ourselves. 20 of us new city employees. Really hoping we're about to be told that we've been gathered for a very special mission because our city is in danger, maybe from space creatures or else people from Glendale.
8:43 According to the email I got, there should be seven other people from the library here, but there seems to be only three of us. Uh oh.
8:46 Just found out that the people who are part time don't have to stay till noon like the others. So happy!
8:52 This is deeply reminiscent of Parks & Rec (except obviously here the library people are the BEST). There's even a mural on the wall from 1942, and before the podium was lowered the donkey in the mural was perfectly situated to give the City Manager donkey ears when he sat on the council.
8:54 We've been given a large folder of loose-leaf papers and pamphlets that we're supposed to rummage through. We're sitting in rows of chairs—no tables or anything—and they're the kind that fold up if you're not sitting on them. We're all having a great time trying to balance the papers on our laps.
8:58 City employees represent the city even when we're not at work!!! According to this lady.
9:00 The finance dept. just passed out mini candy bars!
9:02 I am freezing but can't put on my jacket w/o all my papers hitting the floor.
9:12 Quote from the Public Works Newsletter: "Hope is a verb with its shirtsleeves rolled up." –David Orr
9:14 Recycling Department guys are cute but didn't give out candy bars.
9:15 At the Employee Appreciation breakfast in Nov., which I did not know about, the silverware was actually corn-starch-ware! It's nice to see the recycling department guys so excited.
9:16 "If you accept a plastic bag at a grocery store, shame on you!" Also, they sure do hate Styrofoam.
9:18 The recycling dept. keeps re-usable napkins at their desks.
9:20 "ALL of your parents and grand-parents used to compost!" Um, nu-uh. They don't know. But they're giving away compost bins. I want one.
9:23 I asked a recycling question mainly because they really really wanted someone to.
9:30 The safety guy wishes he didn't have to follow the recycling guys cause who can match that passion?
9:32 I missed the last Fire Extinguisher Training Class and will have to go to the next one.
9:36 If we get a ticket off-duty we're supposed to tell our boss. I'm going to assume that's for people for whom driving is part of the job.
9:40 BREAK
9:50  Coming back from break, I see that the woman in front of me has already filled her entire "New Employee Orientation Notes" page. I have one sentence on mine: "Look on Ben for CPR/First Aid" and I've already forgotten what that means.
9:52 Tried to make friends with the woman in front of me. Failed. Too bad for her, I can't eat my finance dept. candy bar and would have been willing to pass it along.
9:55 The RideShare lady seems very nice but needs to speak up.
9:56 One woman has moved and is now sitting right behind me. Luckily my handwriting is so bad, I don't need to worry about her reading over my shoulder.
9:58 Speaker just said, "It's only on a 'first come, first' basis." I don't think she realizes. I am so embarrassed for her.
10:02 This woman really loves this city. She isn't even kidding.
10:03 I should get one of those space pens, the kind that write upside down or on butter. You never know.
10:09 At some point I will be called in for harassment training. Apparently the Water and Power Dept. in particular is well known for joking around and they'd better watch it.
10:12 All city employees are disaster workers! I have a special placard for my car!! It will get me through any barricades.
10:16 Ooooh I will be trained in 'incident management.' I will be so useful after that.
10:20 There is no smoking in our city. Reason number 36 to be glad I quit.
10:26 The finance dept. candy bars were Paydays. I just got it.
10:27 It's still really cold in here.
10:30 WOO HOO PART TIME GETS TO LEAVE NOW!
10:32 I feel kind of left out though.
END